Summer may be coming to an end, but here at Epsilon things are moving forward by the minute! With brand new NPC trainer sprites, music, UI, and Divine Beasts, there's plenty to see this month. Make sure to stick around to the end for a special surprise!
---
Trainers are common everywhere you go in the various regions of the Pokémon world. Everyone is out to prove they're the very best, training with their Pokémon in caves, beaches, forests, and various other locations to strengthen their teams. In Vesryn, you'll find many trainers to battle against. For this update we wanted to show some of the redone trainer classes that are prevalent around the region. Here is a look at six examples of trainers you will get a chance to fight against, created by our spriter Nico: Youngsters, Lasses, and the male and female Rangers and Ace Trainers!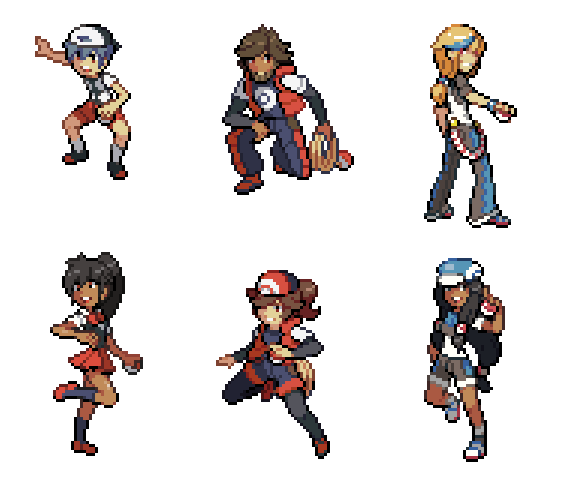 ---
After a long day of battling against these trainers and going up against some of the wild Pokémon, there might be a chance you want to check out how your Poké-companion is doing. Luckily, the new Summary UI* is ready to be unveiled, thanks to our developer SleepLate!
Featuring a new friendship meter, a display of your Pokémon's favorite flavor, and a hexagonal stat screen that will show you how your EV training has been progressing, it should be easier than ever to help raise and train your Pokémon!

*The UI is still a conceptual example of what is planned for the summary screens and are subject to change.
---
Our musician LJ has been hard at work making brand new tracks for everyone to enjoy. This month, we have not one, but two brand new samples of our game's soundtrack! Give them a listen and comment your thoughts!
---
Next, our next two Divine Beasts are ready to be showcased. Introducing Atamila, the Fighting Divine Beast, and Lavizen, the Psychic Divine Beast!
So far, we've unveiled twelve of the eighteen Divine Beasts. With the reveal of all of the legendary creatures, a large mystery about their purpose in the world still remains. Do you have any speculation as to their purpose in the game? Let us know what you think in the comments below!
---
That's it for this month's update, but a special surprise awaits us for next month… We've shown the grunts for Team Olympus and Team Asgard alongside the admins of both teams, but these two teams would not exist without two very strong leaders to guide them. Next month, we will unveil the designs for the Team Olympus and Team Asgard Leaders!

---
Make sure to comment below what you thought of the update, including any speculation you may have, or any of your thoughts on the sprites, menus, and music shown today, and leave a message on our Twitter and Reddit! Until next time…
All reside, confined evermore, until stirred.