Happy Halloween from the Pokémon Epsilon team! The year is slowly coming to a close, with only three more months' worth of updates before 2018 comes to an end. In the past few updates we've been pretty vague on major details or the features we've added into the game, but for this month we decided to take out the "trick" in trick-or-treat, as we unveil a brand-new feature perfect for the occasion! On top of that, this month we reveal a spooky new Origin line (including its menacing new mega), and two of the remaining four Divine Beasts! With that being said there is a lot to cover, so let's get going!
---
Vesryn has many towns and cities, with sights and sounds to see around every corner, one of which can be found in Kivu City. While Kivu is a large port city with many attractions and pit stops, we'd like to focus on one in particular. It's here that gym leader Samara makes the city known for its fabulous new movie studio, bringing an idea she reinvented from stories of Hoenn's contests, and a strange Pikachu that competed in them: Costume Pokémon!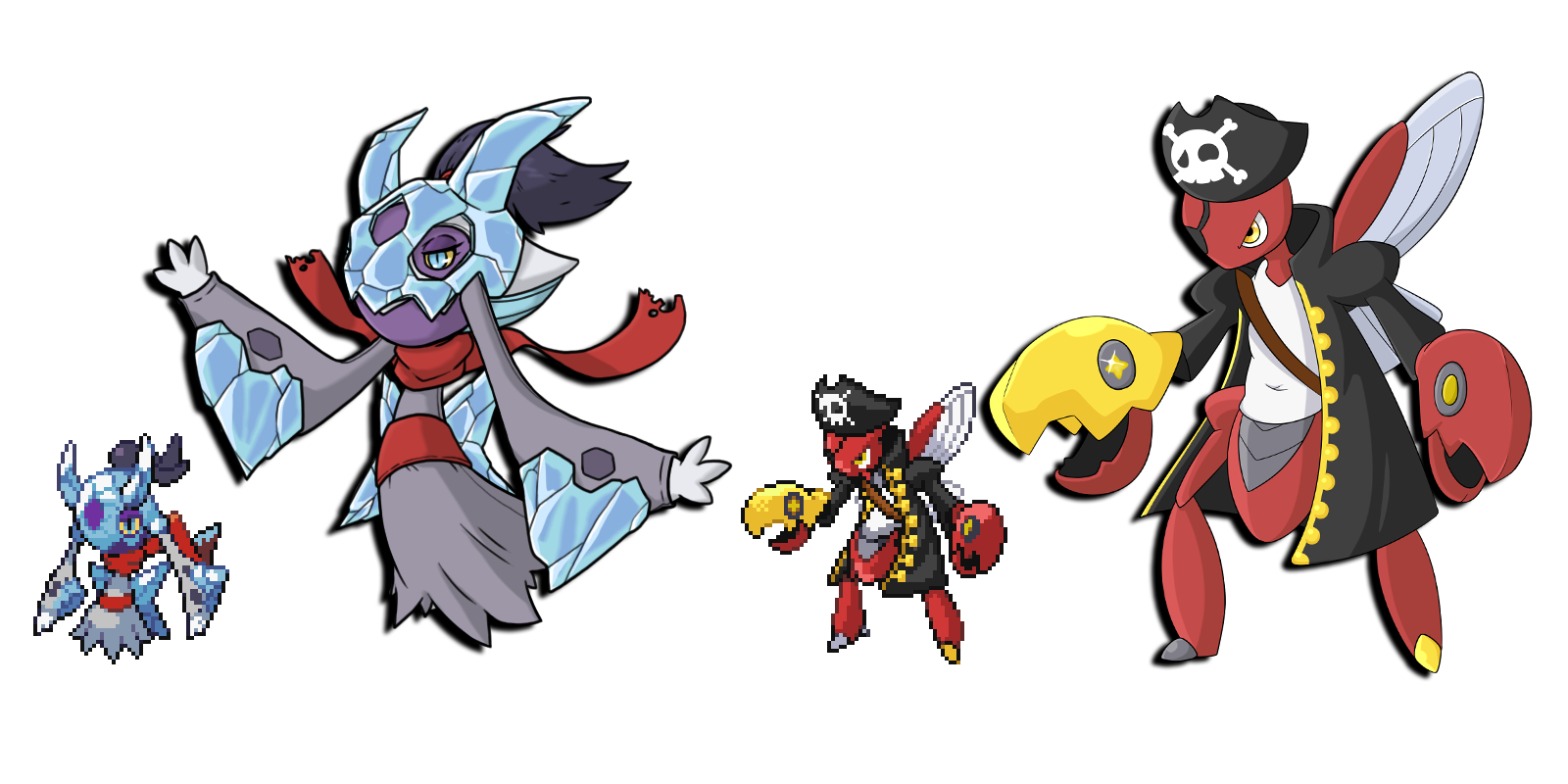 Costume Pokémon, such as Costume Scizor and Costume Froslass from our spriters Egg and Nico respectively, are special forms that Pokémon can obtain by wearing unique outfits. These outfits give them access to special moves made to fit the costume being worn, and hopefully even an advantage in battle! Costumes can take any shape, turning Pokémon into pirates of the high seas, or ninjas hiding in the shadows. Here are some of the properties shown when wearing one of Samara's costumes:
When a Costume Pokémon learns the special move, it replaces one of its four normal moves, or adds a move if a Pokémon knows less than four attacks.
Upon removing the costume, the move is removed from their attack list.
If a costume is removed when a Pokémon only knows that special move, the Pokémon will learn the first move it can learn that has the same type as the pokemon, in order to prevent your Pokémon from not having an attack.
By going to help at the film studio, players will be able to unlock more costumes and unique designs for certain Pokémon, so make sure to check back from time to time in Kivu City to find out more!
---
With Halloween being the time for monsters, spirits, and demons to run amok, the team here at Pokémon Epsilon felt it only fitting that we show off one of our creepier Origin Pokémon. For this Halloween, we want to introduce you to the Origin Onix line in its entirety, including Origin Steelix and Mega Origin Steelix!
The Origin Onix line, created by our spriter Egg, and drawn by our artist Elle, is a Ground/Ghost Pokémon line with a very uniquely creepy history only Pokémon like Phantump or Spiritomb can compare to. Instead of keeping it vague on their origins, however, we've decided to share the lore behind these frightful creatures of the earth, written by yyeshurun!
Origin Onix/Steelix (Ground/Ghost), the Sand Demon Pokémon
Onix and Steelix are born from the spirits of dead warriors fallen in combat. The spirits and earth meld together and form the bony and armor-like shape that make up their body structure. They usually haunt their place of death but have been known to travel. They are particularly attracted to places with great strife and discord.
Still troubled by their sudden death in a time of conflict but unsure why, they are often compelled to trick unwary passersby into dark areas where they take sand from around them and create creepy shapes to scare them. They do nothing more than laugh as people and Pokémon run away in terror.
It seems, however, that even vengeful spirits reach their moment of peace. We are unsure if it is time-related or simply the metaphysical aspect of nature, but at a certain point the spirit slowly disappears. Still imbued with some life force energy, however, the sand collects minerals from within the earth, forming a rocky or steel exterior to protect the soft sand beneath. Searching for more minerals to envelop its body, it begins to dig even deeper towards the earth's core.
You'll be able to find Origin Pokémon like this and many more on your journey through Epsilon, so keep your eyes peeled as you explore the Vesryn region!
---
Our monthly reveals have had one consistent detail ever since March: at the end of each month, we show off two of our 18 Divine Beasts. For those of you who have been keeping track, we are reaching nearly the end of our set of reveals. Introducing our second-to-last set of Divine Beasts, the Grass Divine Beast Vidriani, and the Fire Divine Beast Sekelios.
With only one month remaining though, a few questions remain: what will the final two designs for the Ice and Water Divine Beasts look like? What is their role in Pokémon Epsilon's world, and what will their impact be in the story as a whole? Most importantly: If next month's update is the end of the Divine Beast reveals, what might we on the Pokémon Epsilon team have in store for our final update of 2018 in December?
---
All these questions and more will be answered soon, so make sure to keep yourself updated by following us on our Twitter and Reddit pages. You may also want to consider giving the Vesryn region's own Professor Arbutus a follow on Twitter too. She is starting to post every Saturday with small tidbits of information that we don't reveal anywhere else! Especially last Saturday, as she shared a behind-the-scenes look into a major character change and the revamp of a previously finalized story, Ruined Chances.
Happy Trick-or-Treating!
All reside, confined evermore, until stirred.